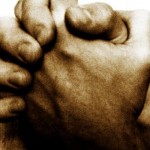 Matthew 18:19 "Again I say to you that if two of you agree on earth concerning anything that they ask, it will be done for them by My Father in heaven."
The Christian Gospel Fellowship trusts that God answers prayer – we've seen his mighty hand at work, and trust in His goodness and mercy.  We especially trust that our God is a god who listens to us, can relate to our suffering (as Jesus himself suffered and was crucified), and offers us the privilege to place our burdens on Him.  We can praise the Holy name of God, sharing with him our joy; we can confess our sins to the Lord and be forgiven; we can thank Him for the mercies he shows us regularly and supernaturally, and we can ask Him for healing, for faith, for wisdom, and so much more.
If you would like to make a special prayer request or share a praise item with The Christian Gospel Fellowship, we'd love to share the burdens and the joys with you.  Our OneCall system allows prayer requests to go out immediately to our Prayer Chain.  Additionally, we are dedicated to prayer in all of our services, especially on Wednesday evenings, when we gather specifically to pray.  Our bulletin also includes special prayer and praise requests.
If you'd like to be added to our prayer chain, please email: bhock_66@msn.com
Would you like to be added to the TCGF Prayer Chain as a regular prayer partner?
Call: Lennie Hock, Prayer Chain Coordinator (570-458-6147)